Description
Its name leaves little room for imagination: the AirPODIUM ® is an elegant, safe, and LIGHT WEIGHT inflatable podium.
Thanks to its 35 Kg (77lbs.) weight, the AirPODIUM ® can be easily lifted and moved with just two people, when inflated or deflated!
The innovation doesn't stop here though: we've projected this podium in a way that allows you to utilize it at meets, and at practice! Three Velcro strips can connect the pieces to be used either on top of one another, or separately. You can even connect them in the various ways shown in the images below.
By using separate Velcro connectors (included), you can even create a long 30 ft tumbling strip!
Underneath the base step of the AirPODIUM ® is a balance beam reference, 4in. wide just like the actual beam. This design is proudly Made in Italy.
You can use AirPODIUM® for the awards or divide it into 3 modules that can be combined in various ways with different functions: a simple preparatory platform, inclined surface, bench for mini tramp, risers for courbette and assistance, paths for children, boosting / fluency stations… and an Air Track strip of 9 meters (30ft.) !!!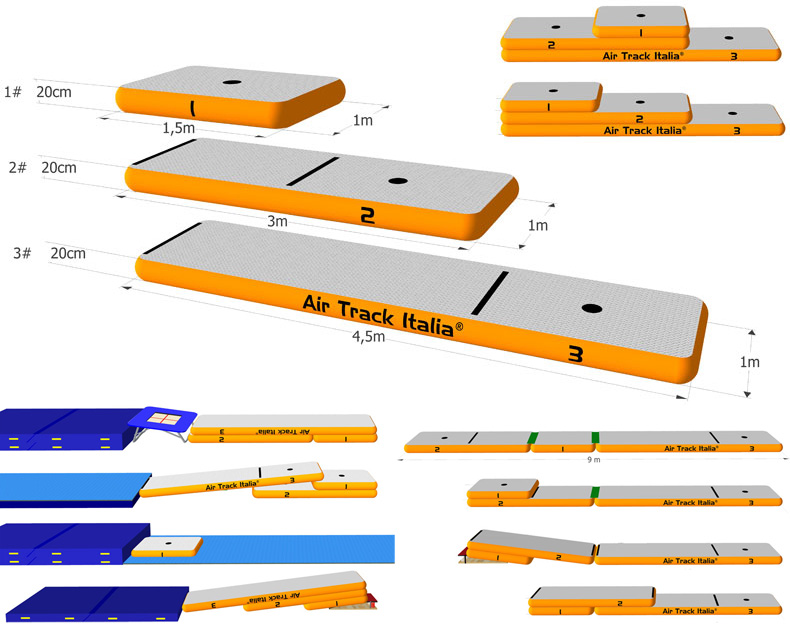 The AirPODIUM ® logo (Registered N. 017011339) is designed with an emphasized resistant rubber material, so that it is always looking new even after having been utilized in the gym.
The Made in Italy design and shape of our podium is one of a kind and inimitable (Design pending n. 005891093).
In 2021 AirPODIUM® won three prestigious awards: the Red Dot Design Award for both the Sports Equipment category and the Innovative Products category and the Good Design Award for the category Sports and Recreation.
Your Sponsor's logos may be applied to the AirPODIUM ® (either permanent of removable), additional fees apply.
The AirPODIUM ® is 100% repairable in the case of damage.

Express shipping

Closing strap

Carrying bag

Repair Kit

Air Track Italia® Warranty

Air Track Italia® Support
Any questions? Feel free to contact us for further information on AirPODIUM!